Everything I Needed to Learn, I Learned from my Grandchildren
By Dina Santorelli
Ask any grandparent what they\'ve learned after 50 or 60 years of living on earth, after Retirement parties, children\'s weddings, bar mitzvahs, Christenings, surgeries, globe-trotting travels and more, and they\'ll tell you this, that everything they needed to learn, they learned from their grandchildren, from those tiny human beings who have graced the planet for just a few years, months or even seconds. Culled from an informal poll of grandparents across the country, here are our top 10 favorite things that grandparents say they\'ve learned from their grandchildren:
1. Smile, for no reason at all. "When I was younger, I never appreciated all the things I had until I had my grandchildren," says Mary Micale, of Old Bridge, N.J., who has four grandchildren and three great-grandchildren. "Then life became beautiful, and I found myself smiling all the time-at the mailman, at the cashier at the supermarket. And, you know what? They smiled back."
2. Slow down. "It seems that everything I do in life is fast paced and stressful," says Anthony Viola, from Maspeth, N.Y. "When my granddaughter is around, I learn to slow the pace down, enjoy what she enjoys, reading a book or playing a game, and just remember the innocence of being a child-no worries, regrets or stress!"
3. Take joy in the little things. "My two-and-a-half-year-old granddaughter squeals when she sees raisins in bread pudding," says Grace Nellett, from Decker, Mich., who has two grandchildren and another on the way.
4. Love is blind. "When grand forgets her glasses, and she can\'t read the price tag, she\'ll buy anything," says Dixie Anderson, a grandmother of four-and great-grandmother of one-from Mount Holly, N.J.
5. Clarity comes with time. "They teach you what\'s right and what\'s not," says Doris Jarvie, of Fort Myers, Fla., who is a grandmother of four. "You can see what mistakes and right choices you made with your own children."
6. Don\'t take everything so seriously. "Last weekend, we took our young granddaughters with mom, dad, aunts and uncle out to dinner," says Nancy Gigley, of Chillicothe, Ohio. "It was at our local country club. The visiting adults were nervous, we were nervous… To us, it was, 'Is everything OK? Will the food taste good? Am I wearing the appropriate attire?\'… but the girls saw the surroundings, ran across the room and showed everyone their new dresses and how they could dance."
7. Change is good. "No fight or disagreement is so bad that it can\'t be settled with a trip to the pool," says William Sohng, of Wappingers Falls, N.Y. "Unless the fight happens at the pool, and then a drive to the ball field usually settles things. If a tussle breaks out at the ball field, everyone can go to the movies. In other words, a change of scenery works wonders."
8. People are listening even when you think they\'re not. "That\'s what I\'ve learned from my grandchildren," says Judy Allen, of Manzanita, Ore., a grandmother of 14, "and they may repeat back to you many years later something they heard from you and internalized. Fortunately, it was always good."
9. There\'s always a solution. "One day, my four-year-old grandson wanted to play Bingo, and my oldest grandson, who\'s nine, said no, because the game was in his room," says Irene Rhein, of Middle Village, N.Y. "But my eight-year-old granddaughter stepped in and said, 'We can all play together.\' And we did."
10. The heart will go on. Says Claire Barreres, of Columbus, N.C.: "Although the visit is over, and all the goodbyes are said, the heart doesn\'t ever say goodbye."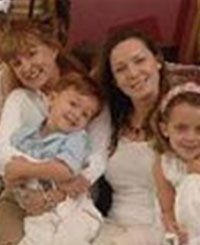 Christine Crosby, a grandmother and great-grandmother, has been a successful entrepreneur, book and magazine publisher, and child/family advocate for 30 years. At 61, she is the perfect example of why the traditional grandparent images no longer apply. A dynamic, blond, high-energy entrepreneur, Christine is a passionate and articulate advocate for children who has worked for more than 20 years to strengthen families and protect abused kids, first as a book publisher and later as the founder and publisher of a chain of family magazines. Her own grandchildren and great-grandchild were the inspiration for GRAND Magazine, an unprecedented resource for today's grandparents.