Calling all kids: Lights, camera, action!
Acting and film-making schools can give your grandchild poise and confidencey
By Mary Ann Cooper for GRAND Magazine
You may be a proud grand who thinks your grandchild "oughta be in pictures," because you see that same teen or preteen flourishing in the spotlight. If so, you might think about enrolling your grandchild in acting or film school. It would give the child real-world, hands-on experience as well as give both of you a souvenir DVD or just good old-fashioned memories to last a lifetime.
Lots of grandparents enroll their grandkids and pay for the tuition. This has less to do with becoming a "star" and more about giving kids the opportunity to develop their creativity and self-esteem, as well as becoming comfortable and confident in pressure situations or performing in front of large or small groups. Of course, students can also apply what they learn to future career plans.
One such acting school is The Playground, located in the heart of the Century City area of Los Angeles and founded and run by Gary Spatz (http://www.garyspatztheplayground.com/). Teaching acting classes is one of Gary\'s primary passions in life. He focuses on creating a workshop or classroom environment that allows the students to take risks and exercise their imaginations. After Moving to Los Angeles, Gary studied acting with Paul Sills from 1978 to 1985. Gary was a company member of the respected American Theater Arts in Hollywood, where he continued training, performing and eventually began teaching. For the 15 years after that, Gary taught classes at Young Actors Space. Spatz has been the on-set acting coach on such shows as Everybody Loves Raymond; Roseanne; Sister, Sister; The Jeff Foxworthy Show; and Smart Guy.
He has also worked on several Disney productions, including The Mickey Mouse Club and Honey, I Shrunk the Kids. He\'s currently the acting coach for Dylan and Cole Sprouse on The Suite Life of Zack and Cody. "I\'m very proud of our program, which is geared for young actors in Los Angeles who wish to pursue a professional film and television career," says Spatz. "Although many who are enrolled may not achieve a full-time acting career, what I hope is they develop great self-esteem and the ability to express themselves and communicate whatever talent they may have. Our facility is professional, with working studios complete with cameras and lights, etc., to recreate a professional environment so the young student may get a sense of what it\'s like to work in that kind of arena. The two-year curriculum includes improvisation, scene study, commercials, monologues, theater games, voice and diction work, and many other activities."
Spatz has this advice for grandparents who are looking to enroll their grandchild in an acting school: "Be careful of places that promise too much. If it sounds too good to be true, it probably is. The program should not be about fame and fortune, but having a worthwhile learning experience. A group class should probably not have more than 12-14 students. If the numbers get much higher than that, I\'d be wary, unless there were several teachers in the class/workshop so that every student had enough supervision and individual attention."
Acting schools can provide wonderful life lessons for your grandchild. Spatz says, "Creating good habits or developing a technique would be true whether they\'re learning the violin, pitching a baseball, dancing, modeling or acting."
If your grandchild wants to pursue an acting career, grandparents need to understand that it is a highly competitive world they are about to enter. Says Spatz, "A lot is expected of an actor working in film and television regardless of their age. There\'s too much money and ego at stake to hire young performers who are not confident in their abilities and have not developed the skills necessary to perform on cue in front of a camera and, sometimes, an audience. Enrolling children, or should I say grandchildren, in the arts, I know what kind of a difference it can make in their lives. There is a tremendous ripple effect that happens with a child who becomes self-confident in their ability to express themselves. These skills will pay dividends throughout their lives regardless of what path they take."
Another acting/film-making school offering learning camps for students as young as 10 years old is the New York Film Academy (NYFA). The NYFA was founded in 1992 in Robert DeNiro\'s Tribeca Film Center with the philosophy that quality education in filmmaking should be accessible to anyone with the drive and ambition to make films. Since then, they have grown into their own facilities in Manhattan\'s Union Square and Soho. They have also opened film academies at Universal Studios (Los Angeles) and in London, England. During the summer they offer short-term programs at a number of additional locations, including Harvard University; Disney-MGM Studios in Florida; Paris, France; and Florence, Italy.
NYFA students immerse themselves in film production or acting in workshop programs that last from one to 12 weeks. Acting classes allow students to learn the craft of performing while compiling a professionally shot and edited actor\'s reel to showcase their talents. Young filmmakers script, direct and film their own films. An intense one-week workshop will allow your grandchild to produce up to a three-minute film to take home with them as a souvenir.
Michael Young, provost of the New York Film Academy, says that his school stresses hands-on experience. "Grandparents need to ask how hands-on their grandchild\'s learning experience will be before they spend their money and enroll their grandchild in any film or acting course."
Young says even if students don\'t wish to have a career in acting or film-making, they will benefit from NYFA\'s classes. "It teaches leadership. Students take their turn being director as they complete the course. Then, they work in groups and learn how to accomplish something as a team. These are valuable life lessons whatever they decide to do in life."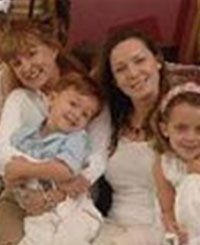 Christine Crosby, a grandmother and great-grandmother, has been a successful entrepreneur, book and magazine publisher, and child/family advocate for 30 years. At 61, she is the perfect example of why the traditional grandparent images no longer apply. A dynamic, blond, high-energy entrepreneur, Christine is a passionate and articulate advocate for children who has worked for more than 20 years to strengthen families and protect abused kids, first as a book publisher and later as the founder and publisher of a chain of family magazines. Her own grandchildren and great-grandchild were the inspiration for GRAND Magazine, an unprecedented resource for today's grandparents.