Leigh Anne Jashaway-Bryant
Master of Public Health / Mistress of Public Humor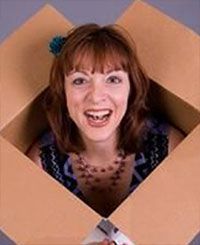 Leigh Anne Jasheway, M.P.H. (master of public health/mistress of public humor) is a stress management and humor expert who helps women and men manage stress, embrace change, and become healthier by learning to lighten up. She speaks at 50-60 conferences and workshops every year and has been a national Speaking of Women's Health and Healthy Woman keynoter. She's a member of the Association for Applied and Therapeutic Humor (AATH).

She is the author of sixteen books and the 2003 winner of the national Erma Bombeck Humor Writing Award for her true story on how her first mammogram caught on fire. She teaches at both the University of Oregon and Lane Community College, runs a comedy troupe, is a humor columnist for the Register Guard\'s Dash Magazine, and is the former host of Women Under the Influence of Laughter, on KOPT 1600 AM. In November, her musical, Busting Out, will be produced in Eugene, OR. In her spare time she tries to tries to remember where she parked.

Here are just a few items to be covered in this teleseminar:



Coping with life using humor – the physical, emotional, and mental health benefits


What happens to your sense of humor at age 7? And at 70?


Quick ways to put more laughter in our lives


Fake laughter versus heartfelt laughter


Women and men both laugh – Who laughs more?


Laughter resources



Join Leigh Anne as she giggles and guides us during this teleseminar on how to laugh; and why we ALL need more of it in our lives!
Leigh Anne's Recent Content